Japan Open 2020 Lowest Amateur Title was shared by Taiga Sugihara and Riki Kawamoto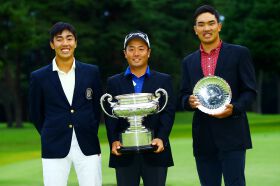 Taiga Sugihara and Riki Kawamoto was awarded with this year's Low Amateur Title as they both finished at 5T. Taiga is from Tokushima Prefecture and Riki is from Ehime Prefecture both grew up in Shikoku Provinces.
"We grew up in same Shikoku Province, so we have been rivals and best friends wince we were kids. I am glad that we both achieved this great honor at big Major tournament like this", said Taiga.
Especially for Riki, it was really tough day. He was supposed to start off the final round with only 1 shot behind the leader, but 2 shot penalty was placed on him due to his mis replacing of the ball on 13th green in R3. His score was changed, and he had to start out with 3 shots deficit at 2 under total.
Riki also had another accident by breaking his utility iron during his after round practice. He stayed up late to fix the shaft and get it ready by the morning. Still he made a great tee shot with that repaired club on his first tee.
"I couldn't figure out why shots were bad on R3. I also had to face so many troubles and happenings haunting me. But I told myself that I should just leave everything behind, don't worry about it and concentrate on my game. That worked", smiled Riki.
Riki did have trouble making 3 putt double bogey on Par3 8th, and had 2 bogeys, but he made 4 birdies to bring it back to even.
"I am glad that I made it to Low Amateur title and also top 10 finish. My ego got in the way where I made careless mistakes on putts. The chances I couldn't make on 17 and 18 are disappointing. I want to be able to brush up. My sister Yui seems to be having problems with putting so I will practice with her."