Yuki Inamori scooped away the win at the very last moment to make his V2 at the Japan Open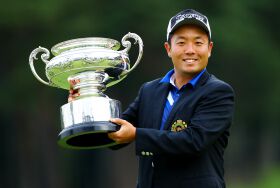 Final Round Sunday was quiet but very tense atmosphere for the final group. Leader Hideto Tanihara and Yuki Inamori 1 shot behind the leader play steady golf but had to settle for par play during most of the holes as other players in the field was making the move with several birdies.
Hideto made the first move by making a birdie at 7th, extending his lead to 2 shots. While Yuki had to be patient with 11 straight pars. When Hideto bogeyed on 11, the gap became 1 shot again, but soon after on 12 Yuki bogeyed and had to step back. Next hole Yuki bounced back with the birdie but, so did Hideto and he cringed on to 1 shot lead.
Then the 17th, Hideto missed the shot from the green side bunker and costed him a regretful bogey. They were tied as co-leaders and went to the final hole to decide who would take the trophy.
They both had the same yardage left on their 3rd shot onto the green, but Hideto couldn't keep his ball on the green from the shot he made from the rough and rolled over the green. On the other hand, Yuki placed his ball to a birdie chance.
"My heart was beating so fast that I could hear it. I was nervous wreck, but I recalled the memory of winning at this Major in 2018 and that experience helped me to make that winning birdie putt. I think I was steady and concentrated from the time in 2018."
Hideto had to settle with par and finished at total 4 under for solo 2nd place. Ryo Ishikawa who made a great Sunday charge making 5 under performance today got up to 3T, 2 shots behind the winner. Lowest Amateur title went to Riki Kawamoto and Taiga Sugihara, both ended at 5T with total 2 under. Takumi Kanaya finished at total 1 under at solo 7th, for his first tournament as a professional.