Shugo Imahira has to satisfy with 2nd place this year but promised to revenge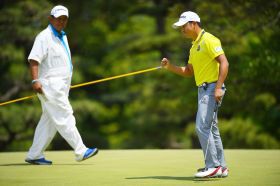 The Heisei Era's Order of Merit titleholder Shugo Imahira couldn't "crown" himself at this year's Wago. Shugo started out 5 shot behind the leaders at tied to 8th on the Final Round. The names at the top of leader's board changed so rapidly since many were making the Sunday charge. One of them was Shugo. He is known to be calm, but he showed his fire by making a fist pump few times.
On 17th, he made a great 3-meter birdie putt and made himself a leader going into 18th. He was ready to make his lead wider on 18th, but a trap by difficult Wago awaited him. Shugo lead the wind by the other player's shot in the same group, decided as a tail wind, chose 52 degrees wedge. It was 111 yards to the pin, but when he made the shot, wind changed. The shot was way short and ended in the right-side bunker. From there, he couldn't scramble for par and 2 putted for a bogey.
Now it was 3-way tie with Katsumasa Miyamoto and Akio Sadakata. Shugo hoped for a playoffs and went to the practice range to prepare. But all ended with Katsumasa's miracle long birdie putt.
"If he makes that, there's nothing I could do."
Shugo has finished in Top 5 before at this Wago, so he does like this course but says, "If I don't win, it's meaningless. I really want to win next year."
2 weeks from now, he will be in the Major, the PGA Championship. After he came back from The Masters, he has been practicing hard to gain more distance. He will show for the next week's tournament, "Asia Pacific Diamond Cup" (May 9 - 12, at Sobu CC Sobu Course).
"I will win that and make a boost for the Major."