Akio Sadakata recalled "That 50cm putt felt very long"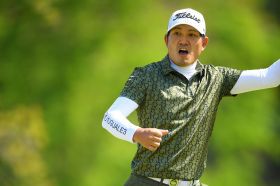 Akio Sadakata made a miraculous 10-meter birdie putt on the 17th, to put back into 3-way tie as one of the co-leaders. But one mistake at 18th made it go away.
His tee shot went on the right side rough, and the 2nd shot couldn't reach the green and ended at the deep rough in front of the green. The approach he made way pass the pin and gone over the green. From there he couldn't get it close enough and 2 putted for double bogey.
"I wished to save par or at least keep it a bogey. I really regret it."
Akio started out 2 behind the leader. He made a chip in on his starting hole to get into a great mood. He played calm and concentrated during the round, and his playing partner Katsumasa Miyamoto secretly envied to see him play.
But at 18th, Akio honestly told Katsumasa that "50cm putt seemed like 1 meter."
"I was nervous, but good concentration and I was playing well."
Katsumasa commented that "Akio played very well. I am sure that he will win this year."
Akio managed to finish within Top 5 at 2 tournaments in row. He is on his way to gain the seed that he lost 3 years ago.
"I really want to get a great result at next tournament."
The next tournament he will be in is at "Kansai Open" (May 23-26th, at KOMA CC)
There he will make his dream come true and lift the first ever winning trophy in front of his family