Takumi Kanaya awarded as the Best Amateur at this years Wago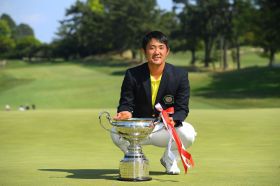 Top candidate for the Reiwa Era star player, Takumi Kanaya has done a great job at the first tournament of Reiwa at The Crowns finishing with total 4 under par at tied to 14th. He was the second amateur from Japan to make the cut at The Masters this year. (First ever was Hideki Matsuyama.)
For the first 2 rounds at The Crown, he was grouped with legendary player Jumbo Ozaki and Player's Chairman Ryo Ishikawa. Unfortunately, Ryo WD and he had to play side by side with the golf legend alone on Day 2, but he easily made the cut and went onto the weekend. The upcoming star has finished as the Best Amateur.
"I changed my course management and chose to use drivers on the holes I didn't before. I had my plan ready, but it didn't lead to birdies, so I am a little disappointed."
Young and motivated 20 years old is not satisfied with the fairly good result.
Around the course he was treated already as a star, many gather to ask for his autographs.
"Many followed my play and cheered for me. I was able to play in whole new atmosphere."
He was signing so many pin flags (souvenir sold for getting autographs) and made him realize that he has become famous.
"I must act and play, not to betray their expectations. I will practice harder and become more and more strong player."
He has been awarded as the Best Amateur couple of times and his play is nothing less than the Pros. His fellow University mates wore the same yellow uniform and cheered for him. That moment we realized that he was still a student.