Shugo Imahira imaged his 36th hole as if it was the "final hole" just in case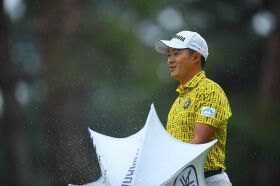 When Shugo came up to the 18th green today, sharing the lead at total 10 under at that time, he felt as if it was the final hole on the Final Round.
"It the tournament gets shortened to 36 holes I will end as a tie."
So, suddenly Shugo chose to go aggressive and aimed for 12-meter eagle try.
It was announced before the start of the Round 2 that the Saturday's Round 3 will be cancelled due to Typhoon. The forecast is also telling that the damage by the Typhoon could become big and there might be a chance for the Sunday's round to be cancelled as well.
"It the damage by the Typhoon is really bad, then there will be no more holes to play, so I told myself to make birdie on the last hole, so that I could finish as the solo leader for the day."
Shugo's eagle putt got to 30cm to the pin, and he made a tap in birdie to close his round as a leader. He had 2 days of bogey free round, and with 4 birdies, he marked 67, and totaled to 11 under, 1 shot lead against the rest of the field. Now, he has gotten really close to becoming the 5th player to defend the tournament. If he accomplishes, it will be since Toru Taniguchi's 2012 repeat.
"If it ends with only 36 holes and I win, that will be happy for me. But as a tournament, I wish there will be another round to compete. So, I will keep the good pressure as a leader and be prepared for the Final round. As for tomorrow, since the weather will be really ad, I will stay in at my hotel and relax."