Shugo Imahira "again" starts the tournament as the leader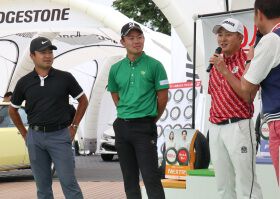 Shugo has finished as runner-up 3 times this season. He had 5 consecutive top 10 finish until last week and his top 10 finish for this season counts up to 10. And today, he has made his 5th start as the leader.
"I have been playing very well for the first 2 days. I guess I have enough vitality for the first 2 days" joked Shugo. He has been playing more than well this season but has not been able to grab his win. He is going through tough season, always being in the contention, but he keeps his "cool face" on.
"I felt that if I took break, I would loosen up too much, so I decided to come to the tournament every week. But this week, I went back home to get a haircut in the neighborhood store. I have been to that store for long time, so I don't need to say anything to the barber. I don't have time to go for several weeks, so I got my hair cut shorter."
Shugo has been on the course for consecutive weeks since after the break in the summer, so he keeps the amount of his practice time to 50% and tries to rest his body.
"I rest to get the fatigue out of my body. I sleep in early and will take 8 hours of rest. I try not to do anything for Mondays to Wednesday. I must refresh and clear out my mind, so the fatigue will not tag along on Thursday."
Shugo succeeded in refreshing his mind and body, already set to make the charge from the starting day. The 3R on Oct 12 Saturday might get suspended due to Typhoon coming to Kanto area.
"So, to be able to win even in shortened tournament, I aimed to make big scores on the first 2 days."
As Shugo aimed, he marked 64, his best score at Sodegaura CC, with bogey free 7 birdies. After this week's tournament, the field will be fixed for the US PGA Tour co-sanctioned ZOZO Championship. Shugo is now 2nd in the Money Ranking, and it is safe to say that he already has the ticket for entry.
"I wish that I could play in the same group as Tiger Woods."
Shugo did appear in all 4 Majors this season, but couldn't play in the same group with Tiger, he was a group before or after.
Shugo also wants to defend his title to become the 5th player to do so since 2012 Toru Taniguchi.
"I will definitely want to defend champion title this week."
Shogo spoke softly as usual but his words and expressions showed a very strong will.