Scott Vincent from Zimbabwe marks his 2nd Tour victory following right after his 1st V in August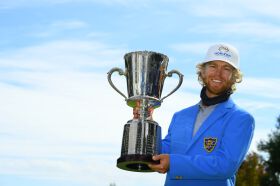 Scott Vincent came through again. It didn't take time for Scott to achieve his 2nd Tour victory. He started out the Final Round as 3T with 3 stroke behind but managed to make 4 birdies on his staring holes and caught up with the leader. Then his eagle on 9th making 8-meter putt gave him the outright lead with 3 shot margin.
Many players suffered tough times dealing with the strong windy condition, but the winner of August's Sansan KBC Augusta wasn't affected at all and come through by winning his 2nd Tour victory soon after.
Runner-up again is Tomoharu Otsuki. No.2 Money Ranker Ryosuke Kinoshita finished 3rd along with Mikumu Horikawa. 44 years old Azuma Yano who aimed to grab his victory, which he has been away for 13 years finished with 13 under at 5T. The supporting professional of ANA, Ryo Ishikawa ended his tournament with 9 under at 16T.