Kasuzi Higa's wish for his V2 came through making a come from behind win at Sega Sammy Cup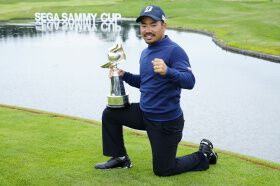 Kazuki Higa on his 5th year as a professional captured his most wanted 2nd victory by making 6 birdies and 2 bogeys to score 68 on Sunday beat the leader Kunihoro Kamii by 2 shots.
Kazuki started out 2 shots behind the leader Kunihiro Kamii, and it was a seesaw game until where Kazuki made charge from 13th to mark 3 staright birdies for outright lead. At one moment he was total 21 under, a new tournament score record, and ha 3 strokes lead against Kunihiro.
But Kasuki recalled, "I kind of lost focus", and stumbled with a bogey on 16th.
"Overall, my goal for today was to reach the tournament tie record 20 under, and I am glad that I was able to accomplish it."
Kazuki was joyous making a tournament tie record victory, just a week before Sansan KBC Augusta, which he really wants to defend the title. His Tour first victory was at KBC Augusta in 2019, and with the cancellation due to pandemic, he had to wait 1 year for challenging the 2-peat.
"I hope I will perform well next week, and I want to be among the top for the Order of Merit race as well."
Kunuhiro Kamii finished 2nd place and received the honorary "Shigeo Nakashima Award" with additional 1,000,000-yen prize, which is presented to the player who performed most aggressively.
Defending Champion Ryo Ishikawa finished at 37T with 5 under total. Lowest Amateur award was presented to Yuta Sugiura, junior at Nippon University.