Lowest Amateur awarded Yuta Sugiura appreciates his round along with is icon Ryo Ishikawa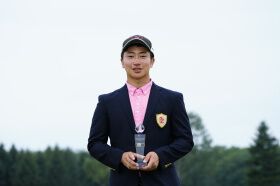 5 amateurs entered this week's Sega Sammy Cup, but only Yuta Sugiura, a junior from Nippon University was able to make the cutline. He also had the luck to play along side with his icon Ryo Ishikawa for the final 2 rounds on the weekends.
Yuta has won at the Junior tournaments held by Ryo Ishikawa and has admired Ryo since his junior days.
"I thank Ryo for giving me the chance to play on the professional tournaments. I really appreciate him for that but also, I felt so lucky playing along with him and given the chance to learn about his golf technics. I learned so much, especially from short games and bunker shots."
Yuta showed his potential on his finishing holes. On 8th, his 17th hole of the day, he shot his 2nd from left side roughs, 167 yards to the pin with 7I, which gave him 4-meter birdie chance and he nailed it. Then on his finishing hole 9th, he made a great save from the deep bunker.
"On Par 3 7th, I made mistake on my bunker shot, so I wanted to make it up by succeeding on 9th."
Yuta got the shot to 2-meter to save Par and received the praise from Ryo. Yuta finished as total 5 under Par, 37T, which was same as Ryo.
"I know for sure that Ryo isn't satisfied with this score, I must look up to him on that matter too."
After the 3R, Ryo said "Yuta has gained plus 40 yards on his drives. I could feel that he is very motivated and trying to become better player. He is definitely one of the player I am looking forward to becoming Pro. I bet he would have any problem as a Pro on this Tour."
When Yuta heard about the great praise given by Ryo, he was all smiles.
"Really? I am so overwhelmed. But I haven't made any successful results yet. This week's 1R was good, but I couldn't keep up. I must push myself to another level. "
2 days from today, he has Intercollege tournament. Then 2 weeks from now, he will make appearance at another professional tournament Fuji Sankei Classic.
"That invitation is also given to be thanks to Ryo, so I want to be able to compete for the win."