Jay Choi marked first ever double eagle in 48 years history of Dunlop Phoenix. Korean born American professional has been playing on the Japan Tour for 12 years and made history today. It was on 560 yards Par 5 18th, he chose hybrid club on his 2nd shot from 236 yards.
"I was aiming the shot to roll from front of the green and get it closer to the pin. Shot felt good, so knew that it will reach the green. Then suddenly the spectators on the grandstand made noise. I heard someone yell, it went in! I was really surprised."
Jay showed his thumb up and thanked the crowd. On the Regular Tour, there has been 37 players accomplishing total of 43 double-eagles, the last one was at Sansan KBC Augusta in September by Shota Akiyoshi, but this was the first one at Dunlop Phoenix.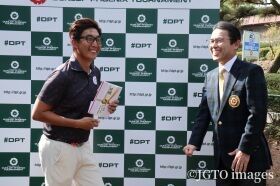 To honor Jay's magnificent accomplishment, Sumitomo Rubber Industries, Ltd. (maker of Srixon), Phoenix Seagaia Resort, and Mainichi Broadcasting System, Inc. has given 600,000-yen bonus prize.
"I will give 10% to my trusty caddy, and I will treat myself to delicious Miyazaki Beef with the rest of the money."
Jay has been part of Japan Tour since 2010, lives in Tarao CC in Shiga Prefecture, so even though he is Korean born American, he speaks pretty fluent Japanese in Kansai accent. He has 1 victory back in 2012. He came up through QT this season, but as for next season, he is at 43rd on Money List and seems to secure it.
"I want to keep up this great work and win next week, so that I could receive the ticket to season finale JT Cup."