Last week's winner Naoyuki Kataoka keeps his A game on to finish 4T at Diamond Cup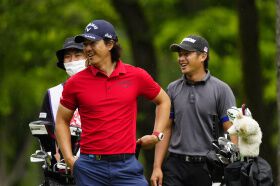 Many times, a winner does plunge on the next week due to fatigue and pressure, but not Naoyuki Kataoka. He has shown that he is still on the roll and even getting better.
23 years old Naoyuki Kataoka, who accomplished his first career victory at Japan Players Championship by Sato Shokuhin last week scored 69 on Sunday to finish at 4T.
"I was aiming to do a back-to-back victory, but I couldn't get my game going until today. My shots were not stable through my first 3 rounds. Even though, I managed to play under par made me feel that I have improved a lot."
He started out at 4 under, 15T with Ryo Ishikawa. He has played with Ryo at a practice round of Japan Open, when Naoyuki was in his Junior year, but this was the first time to play in actual tournament.
"Ryo is my mentor. All of his technics are great textbook for me. His distance control is great, and he doesn't hesitate on making his shots. He is really great with putts. I want to take in all of it."
Naoyuki's effort of absorbing every tips from his mentor like a sponge will eventually make him a great player like Ryo.