Rikuya Hoshino succeeds on "birthday week victory" & grabs his V5 with bonus ticket to The Open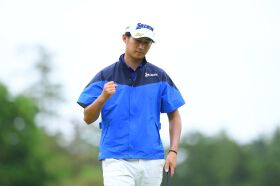 Rikuya Hoshino started as solo leader with 2 shot margin on the final Sunday. His golf and mental pressure were not interfered by the wind nor rain, and he managed to plat with 5 birdies and 2 bogeys to shoot 69. Total score of 13 under par was more than enough. At the end, Rikuya made 4 shot lead against the crowd and grab his career 5th victory.
Now, Rikuya is off to US for the PGA Championship next week. Also, he has earned the ticket to the British Open which is a bonus prize for this week's winner. This week's venue, Sagamihara GC is a course where he won 2 years in a row in junior days.
"That great memory was going through my mind as I played. This is my birthday week, and I am so happy that many great things are happening to me."
Rikuya, who just turned 25 on May 12th, has given himself a gigantic birthday presents.
Juvic Pagunsan from Philippines became 2nd with 9 under. Yosuke Asaji, who was aiming to defend his title finished at 3rd with 8 under. Last week's winner Naoyuki Kataoka finished at 4T along with Komei Oda, Jinichiro Kozuma, and Mikiya Akutu with 7 under.