Rahil Gangjee aimes to defend his title at this week's "Panasonic Open"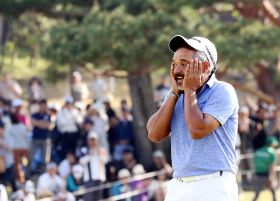 Last week's tournament was co-sanctioned by Japan, Korea and Asian Tours. This week another international co-sanction event will be held. "Panasonic Open" is Japan and Asian Tour co-sanctioned event and will be held at Higashi Hirono GC at Hyogo Prefecture with many international players in the field.
Last year, Rahil Gangjee won the event, his second victory since 2004. Rahil who loves Sushi, Pork cutlet-rice ball, Kobe beef and woo long tea will become 40 years old this year and seeking the chance to defend his title.
Rahil is known as a friendly character and emotional person. He was co-leader going into the final hole of the final round last year, and when he had made a great short game out of the bunker to the pin and made the winning birdie putt, his big cute eyes burst into tears.
Could he do it again this week?
Last week's "Shinhan Donghae Open" winner, Jbe Kruger has earned his tour card for Japan Tour and is joining from this week's tournament.
The internationally colorful stage has moved from Korea to Japan. The world class golf will surely be showed this week at Higashi Hirono GC