Shugo Imahira "again" starts as the tournament leader but will he close the deal?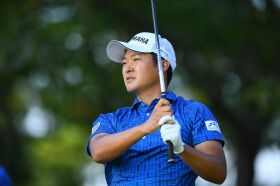 It was surprising for everyone to recognize that Shugo Imahira the last season's Order of Merit Champion and Ryo Ishikawa hasn't played in the same group this season. It was since last year's final, "JT Cup" Round 3 that this 2 played along in the tournament.
With super star Ryo in the same group, the huge crowd followed them everywhere, but Shugo seemed to enjoy it too.
"It has been a while since I played along with Ryo. So many spectators followed our group, and his fans also cheered for me when I made birdies so, I played feeling great in that atmosphere."
Shugo finished his Round 1 with bogey free 65 which he closed with a birdie on the 9th hole. They were in the 3rd from the last group to start in the afternoon, so when they were finishing it was about sunset time, but huge crowd gave them a big applause.
This is Shugo's 3rd week consecutive start as a leader after Round 1. Last season's Order of Merit Champion seems to have a reserved seat "as leader on Day 1".
Last week in Korea, he asked his fiance to carry his bag, which made him to do self-caddying, calculating the yardages and reading the greens, and everything on his own.
"I depend upon my caddy all the time, but I had to think and calculate on my own last week, which seems to be helping me do well this week."
Another great start, but his mind is not so confident about the Sunday afternoons. Last week he ended as 6th. 2 weeks prior was 9th.
"I can't close the deal by winning it even I start out great. I can't seem to make necessary Sunday charge. I need to figure out the way to do well on Sundays."
Shugo's Money Ranking at this moment is 6th, but if he could win this week, he could jump up on the top. He has only 1 victory last season but was able to grab his first ever Money Title.
"I wish to defend that prestigious Title."
In order to do so, Shugo really needs to find his magic to make that "Sunday charge" that he is looking for.