Sang-Hee Lee might be away from golf next year, so he really craves for a victory this season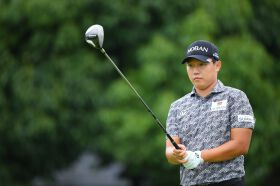 Sang-Hee Lee has been in Japan for 7 years now and speaks fluent Japanese, so a translator is not even needed. He has earned his seed on his rookie year and has been making a stable performances and kept his seed constantly. But Sang-Hee Lee has a big and serious decision on his mind this season.
"I have made up my mind to fulfill my duty of Conscription. If I can get things prepared, I plan to go from next February. So, I really want to win this season before I leave. I pushed myself during the early part of this season and I got caught in a mess. Couldn't even make the cutline but after the off week in summer gave me to calm down and focus. Now I am in a good state of mind to play well and has been in top 10 for few times."
Today, he made a 10-meter putt on the 10th hole to show that is putting is at a great stage on the well know difficult course. He scored 67 for both Round 1 and 2 and totaled to 8 under, just 1 shot behind the leader going into weekend.
"To win, I need to work on my tee shots and find the fairways, so I will practice and make it right by tomorrow."
He left quickly to the practice range right after this interview.