300 days before the Tokyo Olympics 41 years old Toshinori Muto charges back on top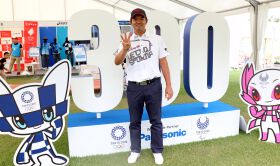 Round 3 of the "Panasonic Open" was held on September 28, exactly 300 days before the Tokyo Olympics. Many of the players are looking forward to making the Olympic representation spot. On this day, 41 years old Toshinori Muto moved back to the solo leader, who was leading the tournament on Round 1. Now he will be going into Sunday in the final group.
Toshinori started out 2 shots behind the leaders. His younger daughter who is 5th grader in elementary school came to the course to cheer for her dad.
"I wanted to show her that I am still competitive."
That strong will was shown as he started out with consecutive birdies and he also made 4 straight from 7th. He marked 64, best score of the day, on this tough Higashi Hirono GC did make his daughter really proud of her dad.
"I have accomplished 1 thing I wanted the most, to impress my daughter that dad can still fight. Now, if I could win tomorrow, that will bring me another joy, a ticket to challenge the world."
If he comes through it will be his 7th career win and a victory that he has been waiting for 4 years now. He is at 519 on the World Rankings, 29th from the top on Japanese player list.
"It's already 300 days until the Olympics. In order to make the representation spot, I need to win 6 tournaments straight from this week, so it is almost impossible, but I will try to go up that ladder gaining bit and pieces of points."
Last year's Order of Merit Champion Shugo Imahira sits just 1 shot behind him, Ryo Ishikawa now No.1 on Money List is 3 shots behind. It will surely be a tough Sunday tomorrow.
Toshinori closed his after-round interview on the 18 th green right next to the 300 days to Olympics bulletin board by saying "I really hope that I will be the one holding the trophy tomorrow."