His mentor greeted Toshinori Muto for his 7th victory that he waited for 4 years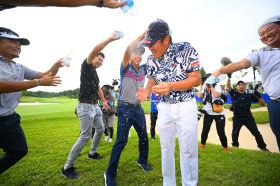 41 years old Toshinori Muto made 8 birdies and a bogey round of 64, the best score of the day, to grab his 7th career victory which he waited for 4 long years.
At the 18th hole, many of his friends greeted him with "water shower".
"I am so glad that I was able to pull through. I was afraid that if I mess up I would get scolded by my mentor Toru Taniguchi."
Toshinori started out with only 1 shot lead. In the same group was Shugo Imahira and Jazz Janewattananond, and in group front of him was Ryo Ishikawa all making a good Sunday charge to chase him.
Toshinori made birdie in a row start, but he recognized that "I wasn't aiming right at the pin on the 3rd and 4th hole." When they reached the 5th hole, Shugo was just 1 shot behind him.
"I was under big pressure. I needed to figure out what to do to win. Many thoughts went through my mind, about where I stand in the Money Ranking and getting next season's seed. If I don't win, I will lose my seed. I was turning negative. But my caddy, who has been with me for 12 years came up to me and said, 'hey are you going for the pin or not? What do you want to do?' These words waken me up and I started to go aggressive from 6th hole again."
This aggressive switch worked, Toshinori made birdie on 9 and 10. Then thought to himself that "This tournament tends to have upsets on 18th hole, so I should make as many birdies as I can to give myself a breathing space." As he thought, he did. He went on to make 3 straight birdies from 12 and on. At the end he had 4 shots lead to win.
Toshinori is in his 19th year as a Pro. He says that he has been looking backwards lately since he has been away from the winner's circle. But his mentor Toru Taniguchi winning in Senior Tour made Toshinori rethink. This led to the come back victory that he and his friends waited for 4 years. His mentor Toru Taniguchi was in the field, but he started out early at 7:30 am. But Toru waited for more than 4 hours to see Toshinori make the comeback win. At 18th, Toru also got wet under the "water shower" that greeted Toshinori.
"We were all at Korea last week so we couldn't congratulate Toru's win, so we showered him too" said Toru's disciples. Team Taniguchi made 2 wins in a row. Toshinori was able to congratulate his mentor's victory by winning his own.