Ryo Ishikawa scores "Course Record Tie 62" and jumps up to 2T after Round 2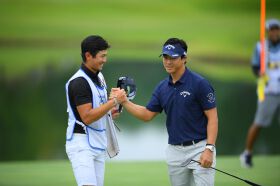 Ryo has made another history by marking a course record at Higashi Hirono GC on the Round 2 of "Panasonic Open".
Today, is was hot and humid as if it was still summer. But the weather wasn't the only factor that made the huge crowd get heated up.
On Par 5, 550 yards 18th hole, he had 226 yards left for his second shot going over the water. He aimed it with his 4I which darted onto green just 1 meter to the pin, and the crowd roared.
"I have selected 4I but if I hit it too shallow or hit it draw, it won't reach. I hit it perfectly and it got there just on target. I knew the high risks, but I wanted to go for it with a challenger spirit. And it worked. I chose to play it too safe yesterday and ended up with over par result. So, I wanted to go aggressive today and I am very satisfied."
Dramatic eagle finish made his fans cheer and Ryo made a powerful fist pump to answer.
"My iron shots were hot today. I had few chances of almost holing the 50 to 60 yards today. Yesterday's round didn't work out as I imagined. I told myself that practicing in the range is not the only way to brush up my game, so I went back to my hotel room and refrained all of my shots and figured out what was clever and what was wrong decision. I have sorted out the problems. I did my homework correctly. In mu junior days, I wrote my scores and fun stuff on mu golf notebook. I restarted writing it from last year. Reviewing and preparing is the key in golf as it is same in school."
Ryo was able to rewrite his course strategy overnight and showed that it worked out great. Ryo played along 10 times US PGA Tour winner Sergio Garcia in SMBC Singapore Open this year and was shocked that Sergio was always having the birdie chances. Where I got to 5-meters to the pin, Sergio always half of distance away from the pin. I have been pushing myself to be able to make world class precise shots. His effort is working and was shown today.
Ryo missed the cutline on his first try at Higashi Hirono GC in 2008.
"Can't believe that I made the cut here today. I am looking forward for the weekend." Ryo smiled.
Now number 1 in the Money Ranking, Ryo is in a targeting position for his 3rd win this year.