Ryo Ishikawa finishing 3rd tips his hat to the winner Toshinori Muto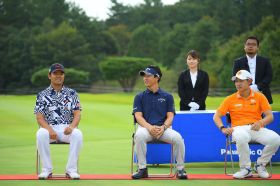 Ryo Ishikawa started out 1 group ahead of the final group with 3 shots behind.
"I thought if I could get to 20 under, I could beat Toshinori, but even if I did, it wasn't enough. Toshinori did too well this week."
Ryo started to make his Sunday charge as he made birdie on 2nd, but he could not mend the deficit between him and the leader. Ryo marked course tie record of 62 on Round 2, but had a very slow start on Round 1 by shooting 1 over par. On his Round 3, he had stumbled with double bogey followed by bogey in the mid of the game and couldn't make the getting red numbers stretch that he planned.
"I lost this week not from today's play but from the 3 rounds adding up to today."
It is said that "to make big score consecutively is difficult in professional golf", but Toshinori made 64 on both round on the weekend to win.
"May be Toshinori is not playing so well this season, but when he got into the zone like he did this week, no one can catch him."
Ryo took off from the tournament last week, he used the time to refresh and energize.
"I can swing my Driver full swing and I didn't have any pain on my body. My swing speed increased too. So, I am satisfied with my game this week. I tried to push up my name on the leader board to scare Toshihiro that I am getting close to him. I think I was able to give some pressure to Toshinori, but it didn't work on him."
Ryo just had to smile to swallow the fact that 41 years old beat him with 6 shot lead at the end.