40 years old "first timer in Japan" Miguel Carballo from Argentina jumps into the top 3 position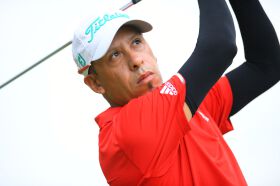 The leader board after the Round 3 was all crunched up 5 players within 4 shots differences, and one of them was 40 years old Miguel Carballo from Argentina, who made his first ever show in Japan Tour finished 2 shots behind the leader in 3T position.
"I finally was able to play well after 3 rounds here."
As he said, he made the 6-meter birdie putt and closed the day with bogey free 66.
Miguel Carballo has been literary "globetrotting" golfer. He played in US PGA Tour for 4 years, 7 years in US Minor Tour, then on to EPGA Tour for a year and now he is in his 2nd year on Asian Tour.
"I played all over the world."
He won at the Asian Tour's Indonesian Open last month and came to Japan's tournament for the first time week.
"I went to Osaka for sightseeing on Wednesday. I am enjoying Japan and also the tournament. I plan to keep relaxed tomorrow and shoot under par."
Would Miguel Carballo be able to win on his very first chance?