Jazz Janewattananond scooped away the "Panasonic Swing" ticket at the last minute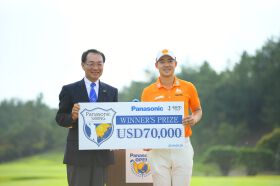 Host sponsor of the "Panasonic Open", the Panasonic, has been supporting many tournaments all over Asia, such as in Thailand, India, Indonesia and Malaysia. They have started a circuit program since 2017 by linking all of their supported tournaments and events. The point system is set for 5 tournaments titled as "Panasonic Swing" and the player who earns the most points will be honored with a prestigious prize.
Last of the 5 tournament was the "Panasonic Open". Before the tournament, Thailand's Poom Saksansin was at the top for Panasonic Swing Point Rankings. Jazz needed to finish within top 4 at this week's tournament to replace Poom and he did with finishing solo 4th.
Now Jazz is No.1 in Asian Tour Money Rankings and 3 rd in Japan Tours Money Ranking. He has showed his potentials by finishing great at the Japan Asian Tour co-sanctioned event and also winning the Panasonic Swing title.
"Panasonic Swing has very big impact upon Asian golf. I would like to make the best out of this chance that I have received and brush up on my golf more."
Jazz has earned $ 70,000 and an invitation to 1 tournament in EPGA Tour's 19-20 season as a prize for Panasonic Swing winner.