Shugo Imahira targets to defend his title at Bridgestone Open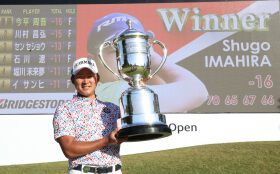 Last season's Order of Merit Champion, Shugo Imahira really looks forward to defending Bridgestone Open title. Bridgestone Open will be held at Sodegaura CC in Chiba Prefecture from Oct.10th. This tournament holds another excitement, as the entry rights for the US PGA Tour and Japan Tour co-sanctioned event ZOZO Championship will be decided after the results of this week.
Top 3 finish of the Bridgestone Open will be exempted, and top 7 on the Money Rankings, counting from season starter SMBC Singapore Open until this Bridgestone Open will receive the prestigious ticket to ender the world class field.
This is a tournament every Japan Tour professional dreams of, and Shugo stands at 2nd place in the Money Rankings. He has finished as runner-up 3 times this season and has been in top 10 for the 5 consecutive tournaments too.
Ryo Ishikawa honors Shugo and says, "We haven't had this kind of player like Shugo who can always finish among the top group. Now I am No.1 in rankings, but he will soon skip me over."
Of course, Shugo replied, "No way, Ryo is on much higher level" and smiled quietly.
Would Shugo defend his victory and also change the position in the rankings as well?
Money Rankings for ZOZO Championship (all in JPY)
1 Ryo Ishikawa (83,012,516)
2 Shugo Imahira (72,388,201)
3 Jazz Janewatanannond (69,581,589)
4 Yosuke Asaji (61,244,833 24)
5 Sang-Hyun Park (57,927,302)
6 Rikuya Hoshino (52,301,773)
7 Chan Kim (50,501,882)
------------------------------------
8 Shaun Norris (45,673,582)
9 Mikumu Horikawa (45,332,045)
10 Jung-Gon Hwang (42,921,685)