Mikumu Horikawa needs one bigger jump to catch his dream to be in the ZOZO Championship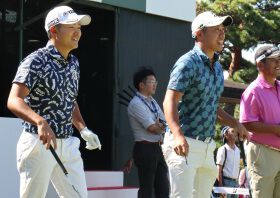 26 yearss old Mikumu Horikawa has been using Bridgestone golf gears, this week's host, and has made a sponsorship deal with the Bridgestone when he has turned Pro in 2014. Mikumu has made his first victory at this year's JGTC Mori Building Cup Shishido Hills and earned 5 years exemption. So, Mikumu returns to Bridgestone Open this week as a host professional with victory under his belt.
Of course, all of the players are eager to win this week, but the win this week means more this year. Top 3 finish of this week's tournament and top 7 of the Money Rankings after this tournament will get the rights to enter the field of ZOZO Championship, which will be held in 2 weeks as US PGA Tour and Japan Tour co-sanctioned event.
"I must win this week to earn my ticket to ZOZO Championship."
In order to prepare well for this week's tournament, Mikumu asked his same age buddy Shugo Imahira to play the practice round together. They promised each other when they played in the same group on the 3R of Top Cup Tokai Classic last week. Before Shugo became the Order of Merit Champion last season, Mikumu used to play the practice round with Shugo very often, but this will be their first time to do so this year.
"Today, we played as match play, and we ended even. As score wise, we were even, but I know our level of the game is not. Shugo is many steps ahead of me."
Last week at Top Cup Tokai Classic, Mikumu was only 2 shots behind of the leader, but stumbled from the starting hole with a bogey and eventually ended at 10T. The road to ZOZO became far.
"I couldn't read the wind properly but since I don't have many experience in the winner's circle, I went too aggressive and ended making terrible mistake. I had the chance to challenge 2 Majors this season, and I have learned so much from playing on the world class field. I want to have the chance to play in that atmosphere more. Since ZOZO will be held in Japan with the top-class field. US PGA in Japan is one thing I can't miss being in."
Mikumu has finished as runner-up in 2015, and 4T last year at this Bridgestone Open.
"I have played here 4 times and made top 5 twice. I don't have such a good record on other tournaments, so I guess this course suites me. But I know I shouldn't be too aggressive and play smart."