BMW Japan Golf Tour Championship Mori Building Cup
Round3

【6/3】18:57 Competition is suspended due to darkness. Competition will resume tomorrow at 6:30 a.m. Scheduled start time for Round 4 is 9:20 a.m. OUT and IN.
Seungsu Han grabs his last chance to receive the exemption to the ZOZO Championship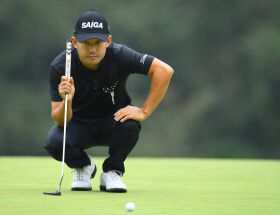 33 years old Korean American Seungsu Han got his hands closer to the goal he has, to be in the filed of ZOZO Championship. Seungsu scored bogey free 64 today and climb up to just 1 shot behind the leader Shugo. Now he has a good chance to remain within top 3 finish of Bridgestone Open, which will provide the exemption of the ZOZO Championship.
Seungsu Han became the champion on short track ice skating, and he also has black belt in taekwondo. He started to play golf with his father's influence at the age of 13, which was when they moved to USA. He has won 5 times as a junior in 2002 on AJGA tournament, which broke the record that Tiger Woods had with 4 wins.
After he became professional golfer, he played in US PGA Developmental Tours and Asian Tours. He has been playing on Japan Tour since 2014 and made his first win at 2017 Casio World Open. Last season, he has been marking good results in US Tour and EPGA Tour too.
"I had the privilege to play along with Ernie Els and Adam Scott. Having the chance to play with the Big Names give me precious experiences, so I really wish to be in the ZOZO field too."