50 years old Hiroyuki Fujita suddenly has the chance to grab the ZOZO Championship "ticket"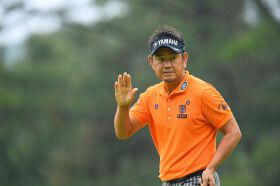 Hiroyuki Fujita, who became 50 years old this year, but still playing energetically made a big jump to 2T after the Round 2 of Bridgestone Open. He started out at 10T but made a great birdie rush with making 6 birdies on his front nine. He had trouble hole after the turn at 4th, where he got caught in the deep bunker where he had to lay up with PW, but made a great short game from the roughs to 2-meter to save par. He also had tough time on his last hole where he shot his 3rd over the green, but his short game almost holed in and he had a tap in for par to survive through his round bogey free.
At Panasonic Open, he finished at 5T and made his career earnings to top 1.5 billion yen. His prize money total for this season is over 18 million yen already.
In 2 weeks, US PGA co-sanctioned ZOZO Championship will be held in Japan. Top 7 players on Money Rankings and top 3 finishes of this Bridgestone Open will be provided with the entry to the world class field.
"I honestly wasn't interested since I know I am not too old to be competitive at that stage."
As Hiroyuki said, he never had ZOZO in his mind, he already has something on his schedule on that same week.
"I chose to make other hobbies other than golf and I worked so hard to achieve Level 2 small vessel license. I have been on the cruise with my children in the summer and I have planned to go on another cruise with my manager and trainer that week. I was looking forward for the cruise and fishing, but if I could be in the ZOZO with many of the young talented players, I would rather be there."
If he makes to the ZOZO field, it will be since 2015 season that he will play in US PGA Tour event.
"If I make it into the field, that will be wonderful. Since my golf team are the cruising members, so they would be happy both ways. I bet they will be happier going to the ZOZO Championship. "