BMW Japan Golf Tour Championship Mori Building Cup
Round3

【6/3】18:57 Competition is suspended due to darkness. Competition will resume tomorrow at 6:30 a.m. Scheduled start time for Round 4 is 9:20 a.m. OUT and IN.
Akio Sadakata marks the best score 63 to get close to the "chance" for US PGA field again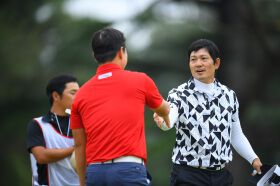 After this week's Bridgestone Open, big and great treat will be handed out to the top 7 players of the Money Rankings and top 3 finishes of this tournament, the ticket to the US PGA co-sanctioned event, ZOZO Championship.
Akio Sadakata played the R2 with bogey free 8 birdies and marked today's best score 63 to join the 4-way tie at the 2nd on the leader board.
"It will be lucky if I could end up in the top 3 this week, but even I do receive the chance to be in the ZOZO Championship, I think I am not worthy."
Akio has challenged the US PGA 15 years ago. He went abroad at the age of 14. He was elected as the member of "All American" which is the best college players status. After going through the Q school, he went on to challenge in the US Tours in 2003, but he failed to keep his card and came back to Japan. He has been away from US Tour since then, and now he is 40 years old.
"If I could, I would love to be in the field."
His brotherly figure, Ryuji Imada who has a win on US PGA Tour will be doing a on course reporter on the TV broadcast for ZOZO Championship.
"I haven't had the chance to see Ryuji for a while, so if I could make it into the field and see him at the course, that will be great."
Since the Bridgestone Open will be cancelled on R3 Saturday, and will be 54 holes battle, if Akio wins, it will be his first victory on the Tour and also a ticket to ZOZO Championship.
"If I could win, that will be the best, I get to have 2 of my dreams come true."