Bridgestone Open 2019 had 2 Best Amateurs who at once faced a difficult decision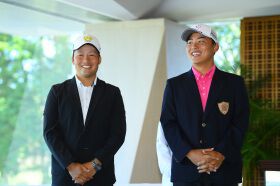 Weekend rounds were cancelled due to Typhoon, and 2 amateurs who were tied at 6th both was awarded as Best Amateur for 2019 Bridgestone Open. Both are Junior in college, Taisei Shimizu from Nippon University and Kosuke Sunagawa is from Osaka Gakuin University.
Kosuke said, "since I was in such a good position, I wished if I could have been able to play at least 1 more round, I could have made better result".
Taisei added, "I have the privilege of playing at this tournament for 3 years in a row, and have been able to have good results in all 3 of them, but I wish that I could have played the Final Round too."
Cancelation of the Final Round took away the chance for their dream. The Top 3 players of this Bridgestone Open is provided an exemption to US PGA Tour co-sanctioned ZOZO Championship. But even Taisei and Kosuke made it within the top 3, they have to decide to turn Pro at that instant moment. Both were seriously thinking what to decide, if that happens. But eventually there was no need.
Kosuke says, "to be honest, I couldn't decide. I have my college league tournament in 2 weeks. If I did finish in top 3, it would have given me a real headache, so I am in a way glad that I didn't."
Taisei on the other hand said, "it was my dream. There will be world class players coming to that tournament. I wish I could have become within top 3. If I did, I would have talked it over with my supervisor and coach."
"If" it happened, it could have changed these 2 young amateurs' life 180 degrees.