Two rivalry Pros from same Okinawa Prefecture will play in same groupings on R1&2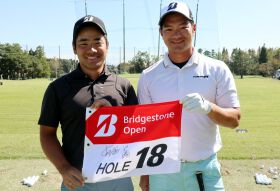 Two players from Okinawa Prefecture will be in same group for the first 2 days, Kazuki Higa and Terumichi Kakazu. Terumichi is 5 years older than Kazuki. So, when Kazuki found Terumichi' at the practice range, he rushed to say hello.
Kazuki is the younger one, but he has made his first victory at RIZAP KBC Augusta and out ride Terumichi on the "getting first victory done" race.
When they first met, Kazuki was still in his junior high school years.
"Kazuki uses to win every tournament he appeared. He was a star among junior's on Okinawa. I am glad to be able to play by his side this week. My best finish so far is 2T at ANA Open this season, so I want to grab that first ever win soon."
Both Terumichi and Kazuki has the sponsorship this this week's host Bridgestone. Also, this week's tournament has a big prize, ticket to ZOZO Championship attached to it.
"This is a chance that no player could miss."
Top 7 Money Ranking players after the Bridgestone Open is exempted to ZOZO, but since Terumichi sit at 48th on the list, his only chance to be in the ZOZO field is to be within top 3 this week.
"I will go for my first win and also ticket for ZOZO Championship. They say, who runs after two hares will catch neither, but I will run after two of my goals and catch them both."
Kazuki Higa also needs to win this week, since he is at 11th on the Money Rankings and he need the win to make last minute entry too. Kazuki played this tournament as an amateur in 2016 and received Best Amateur title. Last year he finished with at 9T.
"I like this course since my amateur days, and I like the course very much. My game is getting better, so I hope that I can get the best result that I am hoping for."
Kazuki has been playing with Bridgestone gear since he was in junior high school days.
"I became pro, and also made the first victory this season. I know that the Bridgestone has hopes up for me and all of the Bridgestone sponsored players to do well. I will try to become the top player out of all the Bridgestone sponsored player this week."