Sunday cancelled ; Shugo defends Bridgestone Open title and ZOZO Championship invitation gets fixed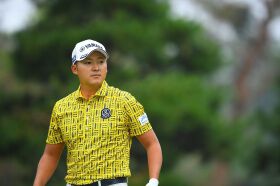 Typhoon HAGIBIS (No.19) is forecasted to make harm on the Kanto area, which includes Bridgestone Open venue, Sodegaura CC in Chiba Prefecture, and the tournament has decided to cancel the Sunday round as well. The tournament is now shortened to 36 holes, and Shugo Imahira who became the solo leader after the Round 2 is announced as the winner with total of 11 under par. This will be Shugo's first victory of the season, and he will be defending his title as a repeat from last year's Bridgestone Open.
50% of the prize money (payment will be 75%) will be added to the Money Rankings and now Shugo leads that race as well, by passing Ryo Ishikawa.
Also, the exemptions for the US PGA co-sanctioned tournament, ZOZO Championship which will start at Oct.24 in Narashino CC was fixed.
Top 3 finishes of the Bridgestone Open receives the invitation and these are; Shugo Imahira, and other 2 will be Tomoharu Otsuki and Seungsu Han, who ranks higher in the Money list out of 4 players in 2T.
Also, top 7 Money Ranking players from season opening SMBC Singapore Open until this week's Bridgestone Open, excluding those who are already exempted are; Ryo Ishikawa (No.2), Jazz Janewattananond (No.3), Yosuke Asaji (No.4), Sang-Hyun Park (No.5), Rikuya Hoshino (No.6), Chan Kim (No.7), Shaun Norris (NO.8) were invited.