Ryuko Tokimatsu loses twice in a row at the ANA Open playoff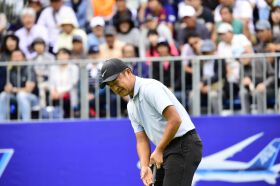 Ryuko Tokimatsu endend up losing in the playoff twice in a row at ANA Open. He lost to Yuta Ikeda in 2017 on the 2nd extra hole. This year it was 5-way playoff. Yosuke Asaji who started 5 shots behind Ryuko made it to total 16 under and became the club house leader. After that one after another finished at 16 under including Ryuko Tokimatsu.
Ryuko Tokimatasu had the chance to scoop the win at the regulation 18th. He had 3-meter birdie try, if he had made it, he would have won.
"I was afraid to make bogey and pushed out even from the playoff, so I didn't want it to be too long. That mentality was wrong. I ended up being short and I lost my chance."
Then the stage moved on to the first ever 5-way playoff.
"There were 5 of us. I knew the only way to win is to make birdie."
His tee shot found the fairway, and he aimed for the pin on his 2nd shot. But unfortunately, there was a mud on his ball which changed the direction and it landed in the right side rough of the green. He got it to 1-meter to the pin and save his par, but it wasn't enough. Yosuke Asaji made the winning birdie putt to close the tournament.
"Yosuke had a great shot and putts. I just have to tip my hat and congratulate him."
Ryuko was leading the tournament from Round 1. He was really eager to revenge the lost against Yuta Ikeda in playoff 2 years ago.
"I really wanted to win. I got some new agenda to tackle now."
He seemed to be quite upset with the fact that he lost in the ANA Open playoff twice in a row.