Yosuke Asaji flew away with a victory by winning the first ever 5-way playoff at ANA Open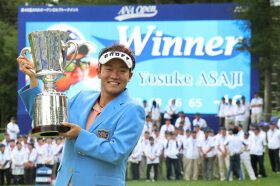 26 years old Yosuke Asaji has won the first ever 5-way playoff and added another victory to his career. This is his 2nd win on the Tour following the first win in May. His money ranking jumped up to 2nd, and now he has a great chance to welcome his expected baby in December as an "Order of Merit" titleholder.
Yosuke started out 5 shots behinds the leaders but with scoring 7 under for the day to total to 16 under and became club house leader. Eventually the tournament has turned into 5-way playoff with Yosuke Asaji, Shaun Norris, erumichi Kakazu, Seungsu Han, and Ryuko Tokimatsu. But closing was quite simple, Yosuke was the only one who could get birdie on the 1st playoff hole and closed the deal.
On the 1st playoff hole, Yosuke had 145 yards left from semi rough for his 2nd shot.
"I couldn't decide whether it would be 8I or 9I."
He took the 8I and darted just 1-meter to the pin.
"The line was just about the same as the par saving putt that I made on the regulation. It was an uphill left to right break."
He made it loos simple and holed in the winning birdie putt to win the 5-way playoff in only 1 extra hole.
Yosuke has won his first victory in May at Asia Pacific Diamond Cup.
"I suddenly got nervous of the fact that I was ranking top on the money list and got too tight and couldn't fight the pressure. Eventually my play got worse and I plunged on the rankings as well. But with this win, I got my second chance so from now on I will play as if I was aiming for my first win again."
Yosuke's mother often came to the tournaments to cheer for him, but she was not here this weekend.
"I think mother felt that I would do whatever I must do even with or without her cheering outside the rope, so she decided not to come lately."
Yosuke was raised by single mother and became professional at the age of 18. He himself will become Dad in coming December.
"My wife is expecting a baby, so I must do better."
Now He is 2nd in Money Ranking. He as a great chance to e entering the US PGA Tour co-sanctioned ZOZO Championship in October now as top 7 of the Money Ranking will be handed the right to enter the field.
"I wish to play with Tiger Woods."