Yosuke Asaji became 3rd Round leader and seeks for the first ever victory on the Mother's Day Sunday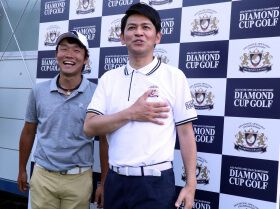 Yousuke had some trouble hole and bogeys but managed to score 68 on the 3rd Round and became the leader going into Final Sunday. 25 years old Yousuke on his 9th year as a Pro faces big chance for his first victory.
"I think I did fairly well against this very tough course."
As he self-graded himself, he made 6 birdies including the 15-meter on the 12th, but also made 3 bogeys. He did make 5-meter par saving putt on 7th, but he self-graded himself as 98 points out of 100.
"I must keep away from making bogeys tomorrow and grab the chance to win."
He went to the same high school as Ryo Ishikawa graduated, and during his high school years, he finished 9th, at this tournament as an amateur. He became Pro in 2011 and achieved his Tour Card in the following season. But he lost his seed after that and, since then he was struggling to find his way back to the Tour. Last year he was able to finish at 56th of the Money Ranking and succeeded to make the comeback.
He also grabbed his chance for this tournament through by winning the Monday Qualifier. If he wins the tournament, he will become the 6th Monday Qualifier to win the tournament.
He got married last August, and his wife walks along with his Mother outside the ropes to cheer for Yosuke. He feels so grateful that his wife and mother get along so well. He was raised by s single mother, so he really appreciates her support. His mother has been with him side by side during the junior days and made him achieve the Top Armature status.
Tomorrow, the final Sunday is Mother's Day.
"I'd really want to show her my appreciation with the victory."